Money plays a role in our lives. Sometimes an existential one and at times we tend to think that it is the only thing that matters. In our days, Fortuna means fortune or financial wealth. If you take a closer look on monetary systems, you see that there are indeed a lot of different concepts: local, national, conceptual, technical, dogmatic are adjectives that give a light impression on what differs between the various monetary services. Without the emotional aspects often connected to money this is what it is all about: some facility that enables exchange of different values. In order to make it work on a global scale one should hope that there is a mutually accepted and provided standard…. John Maynard Keynes

wearth.worth
Why we do it
In the dawn of quantum computing and the unsustainable Oil-Dollar combination, we need an alternative for a new global lead currency to secure our wealth that is accessible to everyone.
Together, we build a 3D-2D-bridge to document real artistic wax bars manufactured all around the world providing digital representations with physically unclonable functions. Now, the first NFTs are being published.
We co-create the first global sculpture and the first anthology of human values with the people of this planet by interrelating sculpture, its land art placement and attributed values. Protocol based, we create nine unique unclonable functions that make one WEARTH.WORTH digital token.
Global distribution of WEARTH.WORTH wax bars
The hexagons are set (purely mathematically) in geometric hexagons of 48 km edge length. Per hexagon, 6 x 3 = 18 WW wax bars (WWWs) can be set, if each WWWs is 48 km apart from the next one. In reality, the 48 kilometres are measured in the actual terrain, not on a map. The land art placement, crucial for the non-clonable function, takes place according to the protocol. This division of the settlement is purely quantitative in order to mathematically determine the maximum amount of WWWs as a reference currency. (Jens Koethner Kaul + Dr. Markus Erbach)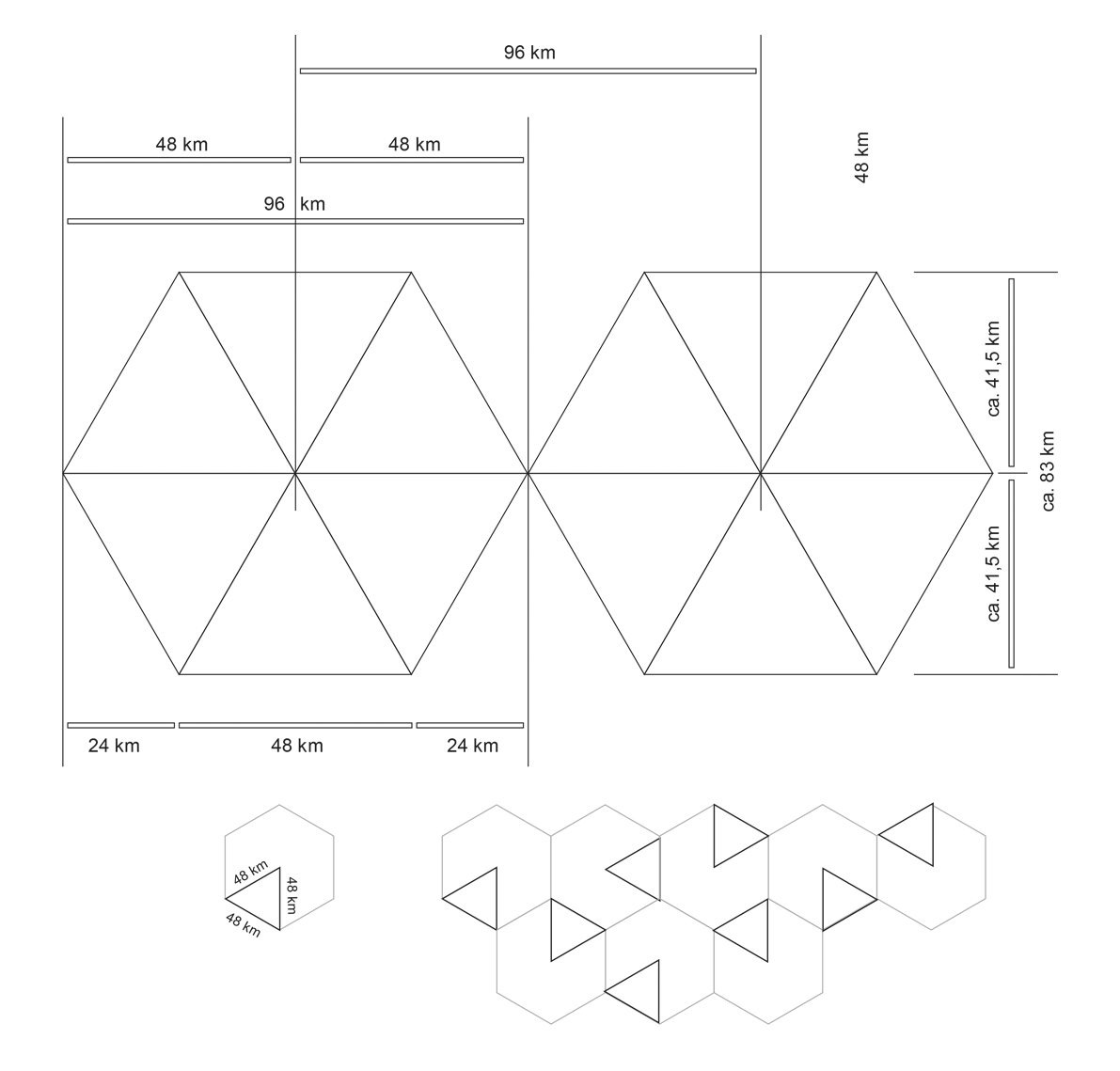 For each hexagon, 3 wax bars are to be placed in one of the 6 triangles. The 3 placements within one triangle must be 48 km apart. A hexagon corner point can be occupied twice after 4 years.
Amount of WEARTH.WORTH Wax Bars worldwide:
Diameter of the earth: 12,756 km Surface of the globe (flat): 511,185,932 km2 Size of a hexagon with edge length 48 km: 5,985.96 km2 Number of hexagons on the Earth's surface (from Earth's surface : hexagon size): 85,397 hexagons -> Number of WWWs on the Earth's surface (3 evenly distributed per hexagon): 1,537,146 pieces equals in monetary value at x 100,000 euros/piece: 153,714,600,000 euros (153.7 billion for the first edition). Per honeycomb, including the centre, 3x6 WWWs are placed on condition that in each triangle there is a distance of 48 km between the bars are kept. No corner point remains free or is occupied twice at the same time. One of 6 triangles is always the start, then the others follow at a certain interval. I.e. after a triangle has been occupied by 3 WWWs, the placement is in the other honeycombs of a territory, before continuing in the next triangle of the hexagon.
The nine physical (three-dimensional) levels of a WWW
One photograph of each six pages of the individual Wearth wax bar corresponds to six photographs. A seventh work is a photograph of the Land Art placement. The eighth work is a print with unique unfalsifiable data of each WWW (e.g. weight, coordinates of placement location and others). The ninth unclonable layer is a sound document created during the placement.
WEARTH.WORTH - The Global Sculpture Crypto Currency An Encaustic Art Based Valuta. Further information: jkk@wearth.eu
WWC/NFT
From now on, you can directly acquire a NFT – WWC on open sea.
https://opensea.io/assets/0x495f947276749ce646f68ac8c248420045cb7b5e/78702465139023199792615615324783632573300862760829792531175307452057433145345/
Each acquisition will be used to produce and distribute more WWCs.
The initial price is based on the cost for the production and distribution of a WWC as a NFT: