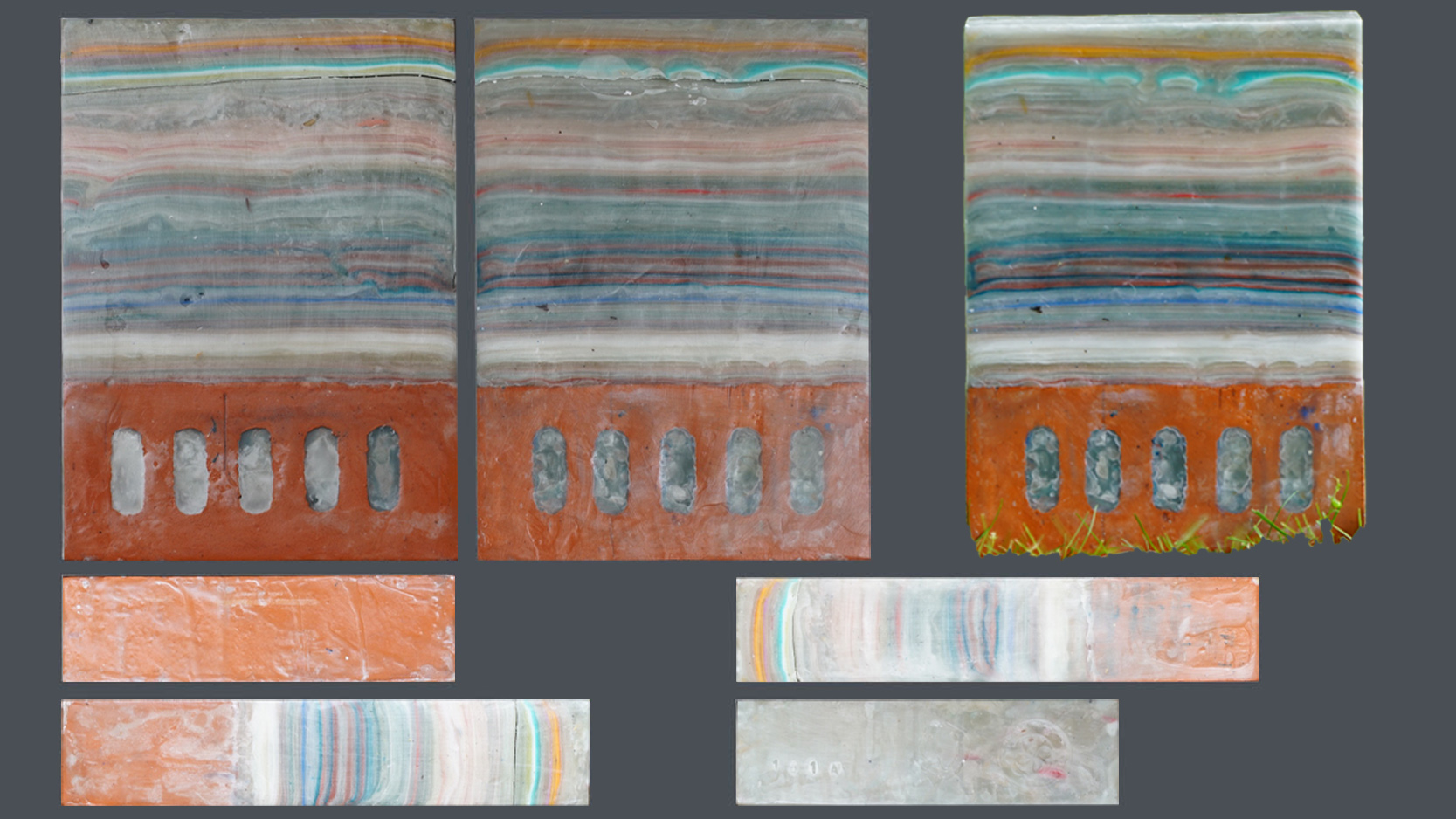 Since we decided to co-create the WEARTH wax bricks in workshops, wonderful synergies or signs of metaphysical gravitation appeared.
Take a more detailed look on 1B1A, where you can see the Belgian brick base and the differently coloured layers of wax. This brick is the current size in the Antwerp region of Belgium. Funny enough, the location of our first Belgian workshop was in a place called Essen, like the city is called, where we placed this brick.
These layers (remember brick 1A1B – STRATIFICATION) are principally a representation of different human experiences but also find an analogy in the layers of geology or in the rings of a tree. This representation of a time space continuum is a basic experience living with Earth. If you want to learn more on how these layers are created you may enjoy the following video: https://vimeo.com/448908299
How can we learn to co-create?
By just doing it. 
Sculpting details:
Sculptor: Jens Koethner Kaul
Where: jkk productions, Berlin (with bits and pieces from our workshop in Essen, Belgium)
When: 2019
COLOUR
It is difficult to describe the nature of colour with the means of numbers and words, because it won't be complete. Nonetheless, enlarging the current concepts, we may accept the existence of three different levels of colour properties. None of these levels exists alone.
1st level:
The optical, Newton, rainbow, prismatic level that is the base also for the screen that shows you these words.
2nd level:
The physical, molecular, three-dimensional level holds the possibility to explain gold and black, which, of course, you wouldn't find in a rainbow.
3rd level:
The metaphysical level of colour is able to express every thought or emotion of your mind and soul. Whereas the fact is objective, the effect on you is relative to your personal position of your mind and soul.