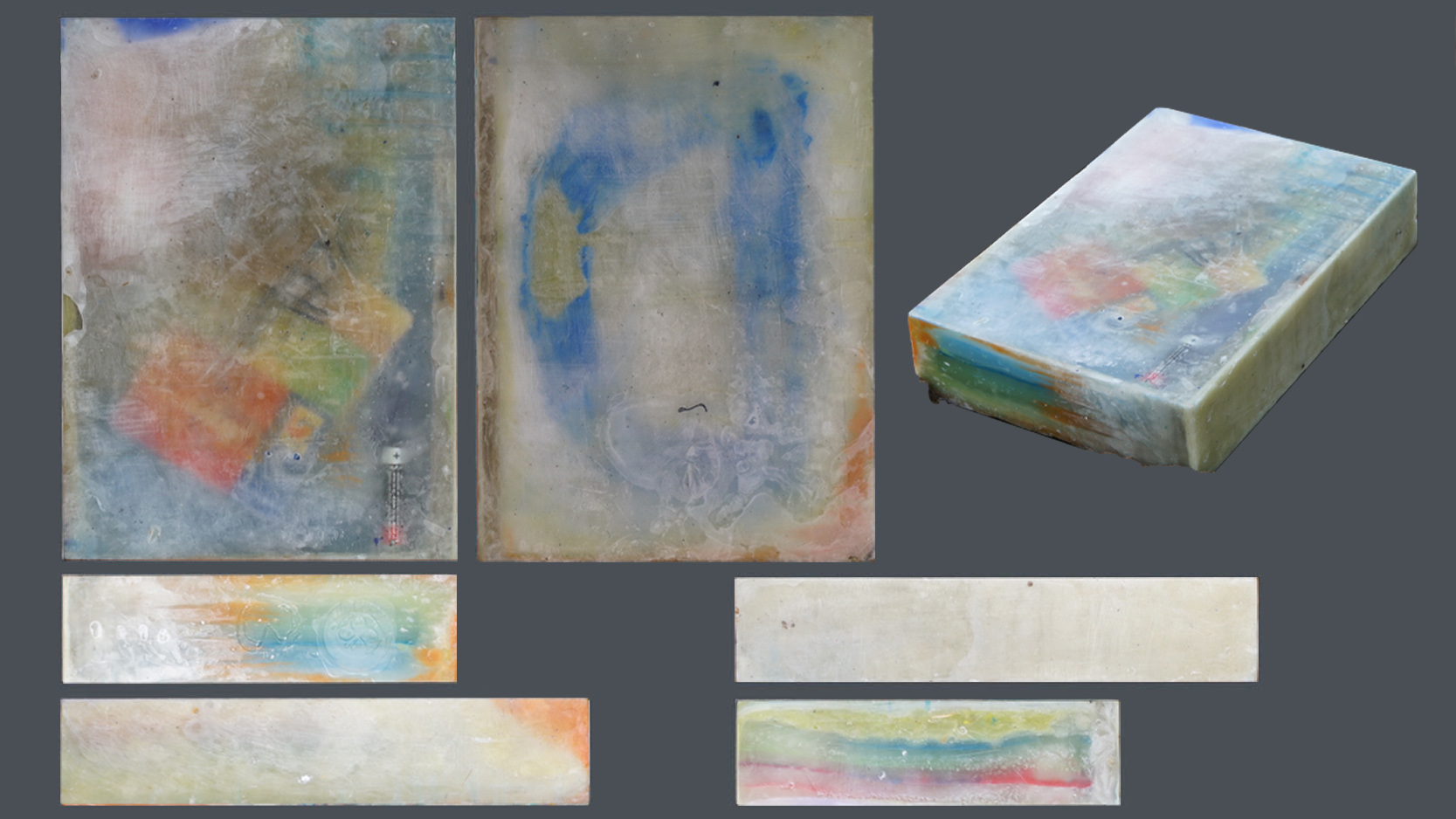 German Angst and fat fields
If you take a closer look at 1B1B – BATTERY, you will discover various (credit) cards and a battery. Are they charged? Somehow, I won't succeed in putting together the perceived rainbow-colours. Is the energy high enough? Looking at the grey-brown soil of a potato field on the Lower Rhine always makes me think of Joseph Beuys and his colour choices, as well as of Sigmar Polke's potato machine.
SEALS
Seal= a large sea animal that eats fish and lives mainly in cold parts of the world. Seals are amphibious (=they can live both in water and on land). A young seal is called a pup.
Seal= a piece of something such as wire or wax that seals a container and that you have to break before you can open the container. Also, a shaped piece of something such as rubber that closes a hole inside a machine so that air or other substances cannot get in or out.
We recall that in the optical understanding of colours, by my definition the first level of colour perception, a mixture of the three primary colours red, blue, and yellow can in principle represent any colour (the second level of colour perception exists because this is just not true). I have never discovered black and gold in a rainbow…. Nonetheless, for most of the colours this remains true.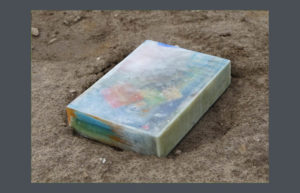 Wir sehen drei Seiten von 6 Seiten, die durch die siebte Seite (die innere Seite) zusammengehalten wurden. Sie klingen gemeinsam in dieser räumlichen Sicht auf diese Teilskulptur: 1B1B – SEALS. Gleich Siegeln, sind diese in Enkaustik gefertigten Teilskulpturen jeweils zu entfernen, um in Dimensionen jenseits der 3. und 4. zu gelangen und werden somit zu Portalen.
Klar ist auch, dass nicht alle Seiten gleichzeitig sichtbar sind; eine der Haupteigenschaften der ersten globalen Skulptur, dass sie niemals ganz auf einem Mal und gleichzeitig PHYSISCH sichtbar sind; unter gewissen Umständen ist dies aber durchaus mit dem geistigen Auge möglich.
Des Weiteren fällt auf, dass die drei sichtbaren Seiten in unterschiedlicher Helligkeit bzw. Dunkelheit dastehen, was die Farbwahrnehmung verändert. Die Reproduktionen der einzelnen Seiten, mit gleichmäßig hellem Licht gefertigt, wirken ganz anders.
Ähnlich einem Akkord klingen also die Seiten, die wir sehen, zusammen.
On our placements:
They try to create a specific sound with the surrounding landscape.
Sculpting details:
Sculptor: Jens Koethner Kaul
Where: jkk productions, Berlin (with bits and pieces from other co-creators' unfinished pieces), 2019
COLOUR
It is difficult to describe the nature of colour with the means of numbers and words, because it won't be complete. Nonetheless, enlarging the current concepts, we may accept the existence of three different levels of colour properties. None of these levels exists alone.
1st level:
The optical, Newton, rainbow, prismatic level that is the base also for the screen that shows you these words. A lot of narratives on this perspective are available from Newton to Itten.
2nd level:
The physical, molecular, three-dimensional level holds the possibility to explain gold and black, which, of course, you wouldn't find in a rainbow. Heavy metals like gold need a supernova's energy, the implosion of light in a black hole, to be created.  Goethe in his "Farbenlehre" already guessed so far that black has a critical influence on colour. For example you can witness when light dims towards "sunset", colours are to be the most intense….
3rd level:
The metaphysical level of colour is able to express every thought or emotion of your mind and soul. Whereas the fact is objective, the effect on you is relative to your personal position of your mind and soul. There are different levels of consciousness.