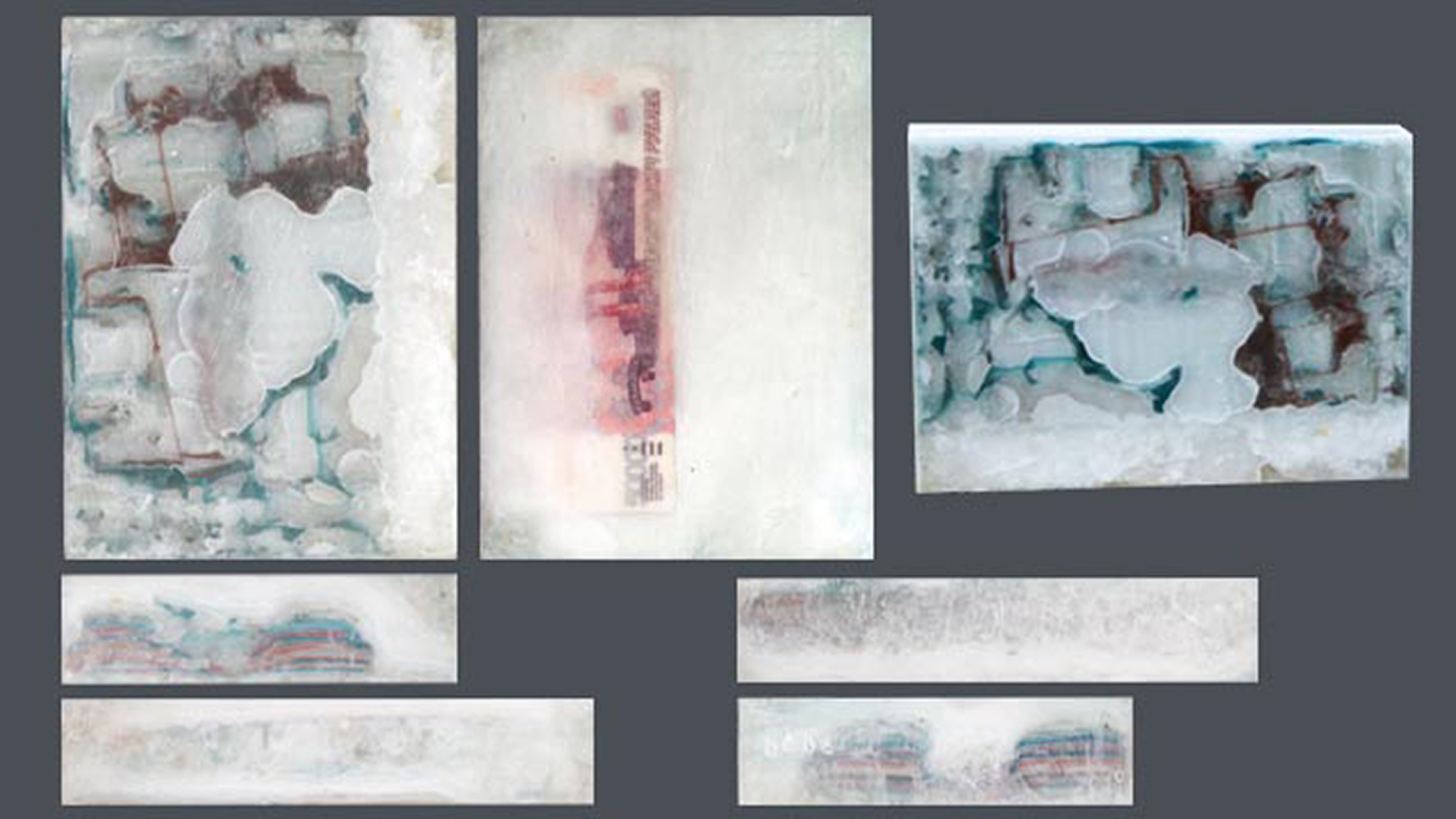 Jot Claus, Joseph Beuys, Hubert Schaffmeister, Jörg Immendorff, Gerhard Richter, and Markus Lüpertz were my 6 most important academic teachers
If you take a closer look at 1B1C – THE RUBLE ROLLS, you will discover a 50.000 rubles bill, lots of light / white and dancing abstract figures. Whereas the turquoise stands for water culture and the capacity to think for oneself, the earth colours stand for sculpting on mother Earth. The latter we all do, day by day, co-creating space on, in and with mother Earth.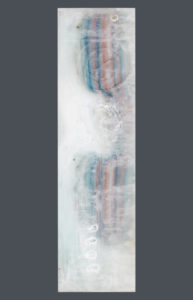 Hubert Schaffmeister was my first professor in Cologne at the former Werkkunstschule, now TU Köln, who taught me free art.
Why I chose this page for him: Schiller urged the balance between the drive to play and the drive to form. The formal instinct must be a little stronger in this form of painting; so the seal and name fit quite well here. Hubert Schaffmeister's glass painting with its translucent colours was certainly a source of inspiration for choosing translucent wax as the basic material for WEARTH. This form of painting is also closely related to architecture and even more so to nature, as the changing light is an active design element.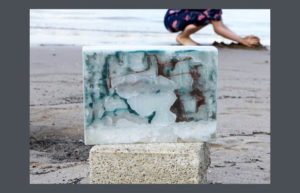 Markus Lüpertz was my longest teacher at the Düsseldorf Academy, which is why I am dedicating this seventh page (the Inside) of the wax cuboid to him. In everything and everything he did, he brought his body unreservedly into it, the most important tool of painting, namely, to think of everything and to create with the given, the perceiving body. Of course, there is a distance in the meantime when one's own work is in the foreground. But in my opinion, what is decisive for Lüpertz is something that escapes many viewers and critics (except Rosemarie Trockel): similar to Beuys, both stand on the free-spirited shoulders of Heine, refusing to be taken in prematurely. Markus' strongest reaction to a book he saw at my place was to Augustinus' "Ascent to God": "That interests me." We both love our daughters.
On our placements:
Whereas there is a specific protocol that helps us identifying certain aspects of the location, each place is the result of a specific metaphysical gravitation. As a co-creator it is interesting for you to find out why you are here.
Sculpting details:
Sculptor: Jens Koethner Kaul
Where: jkk productions, Berlin (with a ruble bill from Vladivostok), 2020
COLOUR
It is difficult to describe the nature of colour with the means of numbers and words, because it won't be complete. Nonetheless, enlarging the current concepts, we may accept the existence of three different levels of colour properties. None of these levels exists alone.
1st level:
The optical, Newton, rainbow, prismatic level that is the base also for the screen that shows you these words. A lot of narratives on this perspective are available from Newton to Itten.
2nd level:
The physical, molecular, three-dimensional level holds the possibility to explain gold and black, which, of course, you wouldn't find in a rainbow. Heavy metals like gold need a supernova's energy, the implosion of light in a black hole, to be created.  Goethe in his "Farbenlehre" already guessed so far that black has a critical influence on colour. For example you can witness when light dims towards "sunset", colours are to be the most intense….
3rd level:
The metaphysical level of colour is able to express every thought or emotion of your mind and soul. Whereas the fact is objective, the effect on you is relative to your personal position of your mind and soul. There are different levels of consciousness.