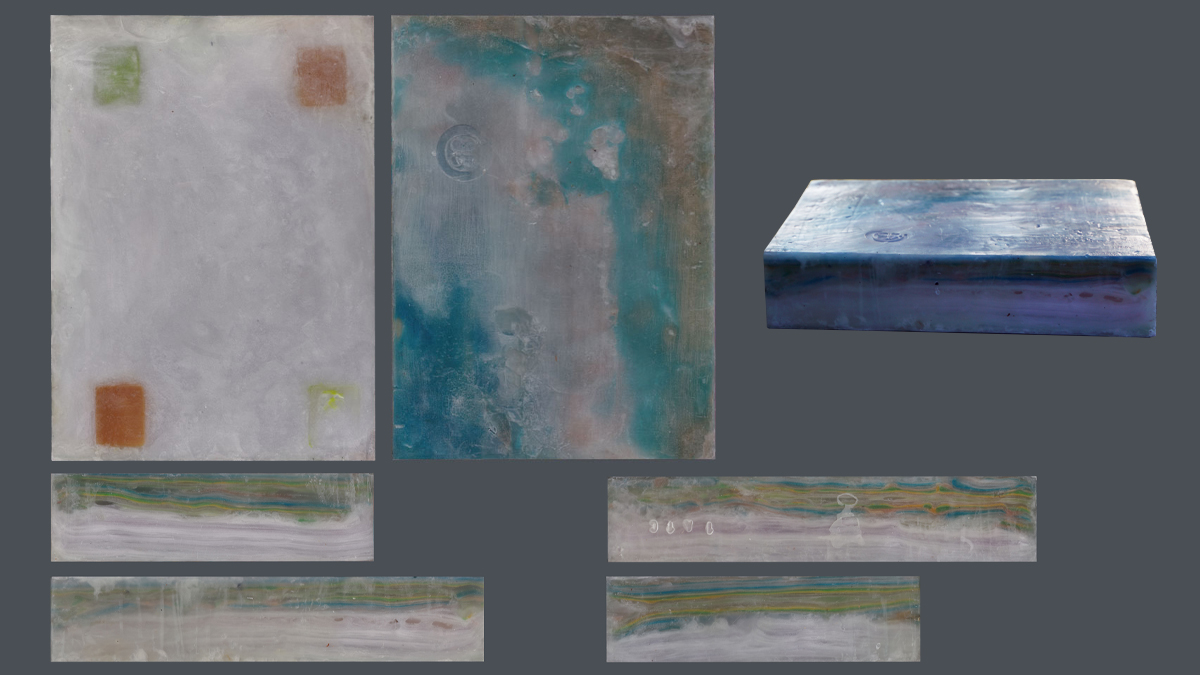 LUCIFER (1A1C) at the big Malche, Berlin, Germany
The sides one and two of the brick 1A1C play with different subjects, (good base for some poetry): side 1 shows four bricks within a brick on a light white ground, whereas turquoise is the dominant colour on cloudy side 2 without any "right angle"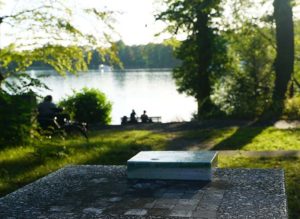 The exact location on Großer Malchsee (Malche) of 21st century sculpture WEARTH's light bringing brick 1A1C – LUCIFER is just in a triangle of three close-by historic Berlin locations: the Humboldt family's castle, the archangel monument for Dadaist artist Hannah Höch and Berlin's eldest tree (appr. 800-900 years old), the oak-tree named "Dicke Marie" (Fat Mary) after the rather fat cook of the Humboldt family.
Do you like playing chess?
Sculpting details:
Sculptor: Jens Koethner Kaul
Where: jkk productions, Berlin
When: 2018
Charles SALA (professeur d'histoire de l'art, Université de Paris-X Nanterre). « Hannah HÖCH », Encyclopaedia Universalis:
Peintre allemand, Hannah Höch (1889-1978) avait commencé à étudier la peinture classique à Gotha, sous la direction d'Orlik. En 1912, elle poursuit ses études à Berlin, puis à Charlottenburg, où elle fréquente l'école des Beaux-Arts. La Première Guerre mondiale interrompt sa formation intellectuelle et picturale. C'est en 1919 que, brusquement, le peintre abandonna toute recherche artistique pour s'adonner à l'aventure dada. Un ensemble d'aquarelles est exposé à la manifestation dadaïste qui eut lieu dans le cabinet J. B. Neumann. Amie de Raoul Hausmann (fondateur avec Huelsenbeck et les frères Herzfelde de la tendance dadaïste berlinoise), Hannah Höch participa aux activités du groupe en collaborant à la revue Der Dada ainsi qu'à la publication Schall und Rauch. En 1920, lorsque le dadaïsme de Berlin était en plein essor, le peintre présenta à la grande " foire Dada de Berlin " une série de reliefs et de poupées, mais son univers tout particulier s'exprima surtout dans les collages. Elle voyagea avec Kurt Schwitters dans l'Europe entière pour diffuser les idées du mouvement. Hannah Höch fera partie aussi du Novembergruppe, jusqu'en 1931, année où les activités de ce mouvement s'interrompirent.
Au sein du dadaïsme allemand, l'œuvre de Hannah Höch occupe une place particulière. Ses collages appartiennent en effet à deux catégories distinctes. Une première (la moins importante), de tendance politique, voisine avec les expériences de Helmut Herzfelde (appelé aussi John Heartfield) et de Raoul Hausmann. La seconde est à la fois plus documentaire et plus onirique. Le peintre exécute de grands collages avec des photos d'autres dadaïstes, où se trouvent ainsi réunis tous les membres du groupe berlinois (musée de Berlin-Dahlem).
L'œuvre, un collage, intitulée Coupe faite avec un couteau de cuisine (1919, Staatliche Museen preußischer Kulturbesitz, Nationalgalerie, Berlin) est particulièrement significative de la démarche de l'artiste. Il s'agit d'une vaste surface (114 cm X 90 cm) où se trouvent disposés divers éléments photographiques issus de l'environnement urbain (gratte-ciel, maisons, foules), de la technologie (rouages, machines, outils), ainsi que des portraits d'hommes politiques et d'artistes. La mise en page de l'œuvre est très soignée, et les différentes parties, tout en s'échelonnant librement, se trouvent reliées par des relais plastiques et structuraux. D'autres travaux semblent plus orientés vers l'exploration onirique. Dans Danse (1919, photomontage), dans La Mère (Mutter, 1930, collage, collection Höch, Berlin) ou dans Les Poissons lunaires (1956, collage, Berlinische Galerie, Berlin), les figures grotesques donnent une impression de dépaysement, et la juxtaposition d'éléments disparates rappelle certaines œuvres contemporaines de Max Ernst. Hannah Höch exécuta des collages plus " intimistes ", où elle semble bâtir une patiente autobiographie. Meine Haussprüche (1922, collage, galerie Nieredorf, Berlin) et Schneiderblume (1920, collage, coll. part.) font partie de ces travaux extrêmement rigoureux et raffinés.
L'œuvre de Hannah Höch, qui est à mi-chemin entre le dépaysement surréaliste et la violence destructive de Dada, est une des plus " constructives " du mouvement allemand. Elle témoigne de l'extraordinaire variété de solutions plastiques que le mouvement dada a inspirées.